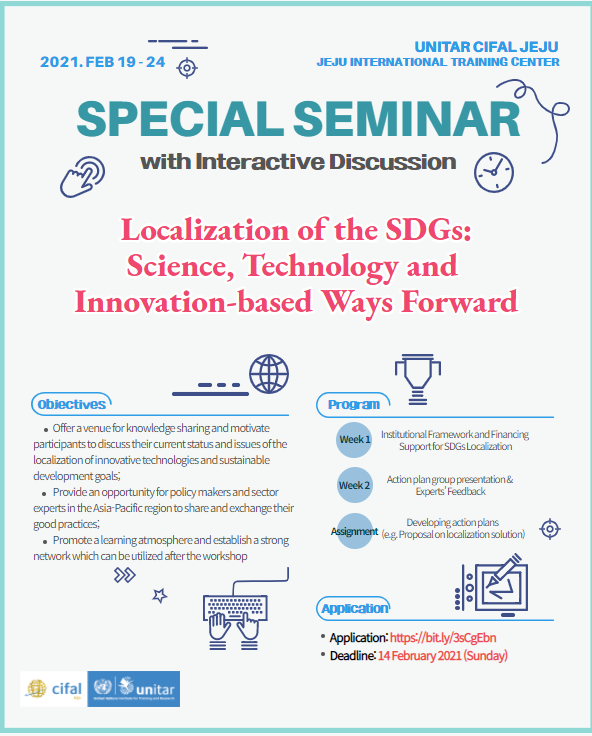 Background
"Localizing" refers to the process of taking local and sub-national contexts into consideration in achieving the 2030 Agenda. In the context of sustainable development, it means that the people's needs and resources are placed at the center of development process, from setting goals and targets to determining the means of implementation[1]. UN Secretary General Antonio Guterres recognized in this regards that, the solutions to sustainable development need to be holistic by putting local and regional governments at the centre, as "the local space is the perfect place to connect the dots[2]." Thus, a contextualized and clear localization strategy would be the only way to reach the 17 sustainable goals and 163 targets[3].
While local governments need to be a main actor for the domestic and global SDGs implementation,[4]there are large disparities between countries, especially in the Asia Pacific region, in terms of local governments' capacities to deliver results and improve services to targeted populations[5]. A number of low-income countries in the region have continued to be faced with a lack of adequate technical and institutional capabilities to prepare and execute sustainable development projects.
For the SDGs to be achieved locally, a number of "enablers" should support local government; access to Science, Technology, and Innovation (STI) and sufficient funding are good examples of enabling conditions. To build technical capacities, local governments can partner with an external organization to incorporate innovation into administrative process and allow for greater oversight and transparency in operations[6]. When it comes to finance, adequate municipal finances will be key to successful SDGs implementation. In this sense, the fiscal autonomy of local governments as well as their capacities for financial management need to be strengthened for SDG localization.
The 2030 agenda for sustainable development emphasizes the importance of international and regional cooperation in ensuring localization in all countries. Linking SDGs implementation with development priorities of a community can be a good starting point for international cooperation. Regional cooperation also has the potential to benefit smaller cities and help them to achieve sustainable development by mainstreaming SDGs, building the institutional capacity, ensuring sustainable financial resources, and promoting local ownership. It can also contribute to a more coordinated and coherent policy-making at the local level. In this regard, this online event will help participants to raise awareness on the critical importance of effective localization and innovative solutions to achieve sustainable development goals. The workshop will also provide a platform for participants to share and exchange their good practices and challenges regarding the localization and STI-based solutions.
Event Objectives
For the capacity building, this event will:
Offer a venue for knowledge sharing and motivate participants to discuss their current status and issues of the localization of innovative technologies and sustainable development goals;

Provide an opportunity for policy makers and sector experts in the Asia-Pacific region to share and exchange their good practices;

Promote a learning atmosphere and establish a strong network which can be utilized after the workshop.
Learning Objectives
After the event, participants will be able to:
Raise awareness on the value of localization of the sustainable development goals;

Understand the linkage between policy actions and the conditions for successful localization of sustainable development goals;

Expand networks and identify partners with expertise to assist governments to improve their practices.
Program
Week

Date

Topic

Pre-session

February 18

(Thursday)

Introduction

Warm-up discussion on pre-reading materials

Week 1

February 19

(Friday)

Institutional Framework and Financing Support for SDGs Localization

Week 1 ~ 2

Self-paced

Assignment : Developing action plans (e.g. Proposal on localization solution)

Week 2

February 24

(Wednesday)

Action plan group presentation & Experts' Feedback
Target Audience
This online event is open to government officials and personnel from non-profit, civil, and private sectors in Asia and the Pacific region who work on policies and projects related to environment, technology, financing and development project.
Requirements
Selected applicants are required to:
Submit necessary documents on time, i.e., registration form etc. on time

Complete and submit pre-training readings and assignments, i.e. action plan etc.

Actively participate in the training program

Be fluent in written and spoken English
Application and deadline
Application: https://bit.ly/3sCgEbn
※ Late application will NOT be accepted.
Deadline: 14 February 2021 (Sunday)
Note
Participation is subject to approval of the application by UNITAR CIFAL Jeju/JITC.

Only selected applicantswill be notified individually.
---