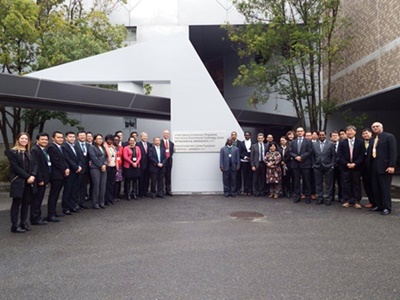 CIFAL Jeju Co-organizes International Workshop on Framework Law on Waste Management
11 January 2016, Jeju, Republic of Korea – CIFAL Jeju convened seventeen government officials (central, state and local) from thirteen different countries in South America, Asia-Pacific and Africa for a three-day workshop on "Framework Law on Waste Management." CIFAL Jeju, in collaboration with UNEP International Environmental Technology Centre (IETC), held the event from 16 to 18 December 2015 in Osaka, Japan.


Countries represented in the workshop included Bhutan, Cambodia, Ghana, Honduras, Jamaica, Mauritius, Mongolia, Myanmar, Nepal, Saint Lucia, Thailand, Uganda and Uruguay. This was the successor of a similar workshop held in August 2015 during which participants worked together to compile fourteen exemplary environmental legislations developed by seven countries (Canada, Germany, Japan, Netherlands, New Zealand, United Kingdom and United States of America) into draft guidelines for framework law on waste management. Over the course of this second workshop, participants reassembled to review the draft guidelines to identify any gaps in policy, compliance and enforcement to formulate the best possible waste management policy options for their respective countries.


The workshop was mainly led by Professor Mr. Jeff Seadon (Auckland University of Technology, New Zealand) who undertook the mission of writing the guidelines from the beginning. Mr. Masa Nagai from UNEP Division of Environmental Law and Conventions (DELC) was also present to moderate the overall discussion to improve the guidelines. The guidelines focused on key areas including air pollution, industrial waste, inert waste, water pollution, waste strategy, waste hierarchy, waste prevention and disposal, circular economy and extended producer liability. The final version is scheduled to be distributed in the first half of this year.